Confessions of a Club Kid: Part 4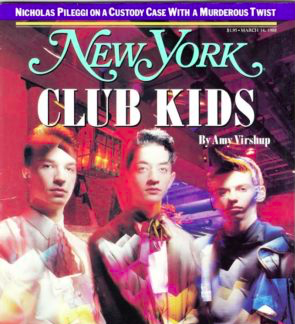 PART 4
I had met the legendary children's talent agent Nancy Carson at a Midwest talent roundup.  She had worked with a lot of the kids that I did theater with in Indianapolis who could afford to fly back and forth to New York for auditions.  We had kept in touch and she had always said that if I could come to New York, or if I could move there, that she would represent me.  She was the first call I made when I arrived back from Evansville.  The second call I made was to Jeff, the only other person I knew in New York: A nasal-voiced, middle-aged, unsuccessful actor whom I had worked on a play with while he was in Indy for a summer.  He had been a caseworker for the NYC child welfare department, and had lost his job in some controversy.  He had successfully sued the city and gotten his job back.  I always thought that was a weird situation.  They didn't want him there, and yet he had to interact with them every day.  Must have made for a pleasant work environment.  He was a weird dude to put it mildly.  He had a shocking Afro of black hair, a huge nose, thick glasses and a pale unhealthy pallor.  He met me at the airport in plaid shorts that clashed with his plaid button down shirt, black socks, and some type of orthopedic shoes, with a NY Yankees cap that appeared way too small for his huge head.  I've never liked the look of a baseball cap on a grown man's head, especially backwards.  It just looks ridiculous.  We took the subway into the city.  I will never forget the smell down there on that August day, a musky blend of urine, sweat, cleaning solvents and damp underground soil.   It smells the same to this day during the humid months.  No matter what they do to that city, they will never get rid of that smell.
 Jeff had agreed to let me stay with him for 2 weeks in his filthy SRO (single room occupancy) hotel at 102nd and West End, on the Upper West Side.  I had to sleep on a diagonal with my head under the bedside table and my feet in the closet.  My first night in New York, dude took me to a "nice meal" as he put it.  We went to the Times Square Beefsteak Charlie's.  It was one of those old school New York chains.  A step above Tad's steaks, but several below Sizzler.  Even this wide-eyed Midwestern boy knew that this was no swanky place.  Jeff informed me that I would have to keep a low profile at the hotel, so that the tyrannical manager didn't know that I was staying there.  He also let me know that one night while I was there, I would have to make myself scarce during his monthly meeting with his Indian call-girl.  This was his sex life.  
Times Square, 1980s.
 I was 17.  I didn't have any friends in New York.   I had been working steadily in one play after the next in Indianapolis, and assumed I would pick up where I left off in New York and immediately be welcomed with open arms into the theater community.  It didn't happen like that.  I did get a couple of jobs right away, including a TV movie with Jenny Wright, Cynthia Nixon, Marcia Gay Harden, Michael Rooker(who I knew from Eight Men Out), and a young unknown actor named Tom Sizemore, who would become my best friend for a while, probably because we were both maniacs.  I adored Jenny Wright.  She was cool, glamorous, and unlike anyone I had ever met.  I hung around her as much as possible.  One day we were shooting on location downtown and she told me that her friends Deborah Harry and the designer Stephen Sprouse were coming to visit the set.  They were two of my heroes!  Sprouse was THE coolest designer at the time, and I knew that he was from Indiana.  I waited on the steps of Jenny's trailer until I saw them walking up the block. I was freaking out.  Sprouse would later save my life and become one of my greatest friends and mentors.  
Me & Jenny Wright.
So things were happening, but I was mostly feeling rejected by the theater community and NOT feeling like I was with my people. I was lying about my age and my experience to get work.  My first day in New York, I walked around and found a job waiting tables at Cafe de la Paix in the ground floor of the St. Moritz hotel on 57th st.  Salvador Dali had lived at the St. Moritz.  I was perhaps the worst waiter they had ever seen.  Every day the human resources lady came down and asked for my I.D. so that she could finish my paperwork.  At that time, you had to be 21 to drink alcohol, but only 19 to serve it.  I was 17.  I had claimed to have left my license at home when I was hired, and I kept using that excuse with the human resources lady.  I somehow had to get a fake I.D.  I went to Times Square one night and started looking around for a shop that did fake I.D.  I didn't know the area at all and sort of got lost.  Times Square in 1988 was certainly not the Mall of America it is today.  It was fully depressed and seedy.  Many of the streets in the 40s were poorly lit, and there was flagrant illicit drug and sex activity everywhere.  The police presence was focused around the theatre to protect their patrons, and other than that, it was a bit of a free for all.  I was in the middle of a block, and a wiry black man bounced up to me and asked what I was looking for.  I told him.  I instantly knew that this was not going to end well, even as the words were coming off my lips.  He told me to follow him, that his boy could do the I.D. for me.  We walked fast, and as we did he talked fast, and seemed to signal to other brothers on the block.  We were moving fast and I didn't know the area, and was all turned around.  The guys he was signaling ended up congregated in the middle of a block, around us.  He said he could now get me the I.D.  It happened so fast.  He threw me against the wall and they closed in.  My breathing was heavy and I could feel myself beginning to tremble.  
"Alright, motherfucker.  How much money you got?"  I was up against a wall, surrounded by about 10 guys.  I was screwed.   I had about $100 in 5 $20s in a folded stack in my pocket.   I thought if I could pull one out and hand it to them, I would be able to get off just losing that.  I tried to pull just one out, but the others peeked out with it, and they snatched them all.  After checking to make sure I wasn't holding anything out on them, they flipped the script and started pursuing me as if I had done something TO THEM!  I was really freaking out now, I started running toward Broadway, out of the shadows, and they followed, shouting at me.  We rounded the corner and there were a pair of uniformed cops there.  I ran up to them, and when they turned, they seemed to know my assailants.  They spoke to them by name and told them to beat it.  I was a mess.  The cops flagged a taxi and asked the driver to give me a ride home to the upper west side, which he did.  Big love to the NYPD for that one.  
It was the summer of 1988 and there was a cover story in New York magazine about the burgeoning, colorful club kid subculture that was happening downtown.  It detailed all the players, including it's ringleader, a Svengali of a kid named Michael Alig.  The article said that he was from Indiana.  I followed the map the article provided, and set out to find him.  
It would change my life forever.