Confessions of a Club Kid: Part 3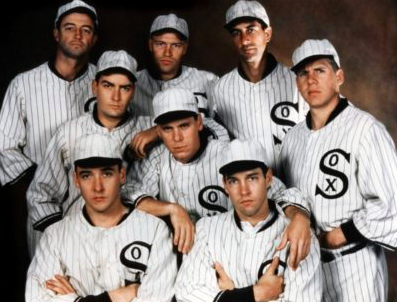 PART 3:  The Party bites back…. again.
I was, in fact, working on the film Eight Men Out.  I was skipping school and working as a P.A. on set.  I had auditioned for a role they were casting locally, and couldn't do it as I had braces and the film was set in 1919.  
But I wasn't about to miss out on this circus that had rolled into town:  John Cusack, Charlie Sheen, D.B. Sweeney, Michael Rooker, Christopher Lloyd, New York indie icons Richard Edson and Bill Irwin, and the relatively unknown John Mahoney and David Strathairn.  So I showed up and asked them to put me to work.  I had seen "Brother From Another Planet" and was stoked to be around John Sayles.  I asked him questions from time to time and he always took the time to answer.  One night, we were preparing to shoot an outdoor scene at sunset and it began to rain.  I knew that the scene didn't call for rain, and was curious how he would accomplish it.  Sayles began to explain to me what filters would be used, etc... and I nodded and pretended to understand.  During his lengthy explanation, my radio began to chirp with "John to set".  After a couple of times, he reached down and turned the volume off on my radio and completed his explanation before returning to set.  He was a class act if every I met one.  
It was fun learning about filters, and being around a film set, but it was really all about the party - the fantasy of being involved in something real, something important, and the escape of getting loaded with these interesting and famous people every night.  One legendary night, Cusack hired a beekeeper to frame out the door to Sweeney's room with a net and fill it with bees, so that when he came out in the morning an angry swarm would be waiting for him.  Serious high jinx.   I went to see the Circle Jerks with Cusack, my first punk show..  
U2's The Joshua Tree tour came through town, and we went en masse to the show.  It was a legendary night.  Los Lobos was opening for U2, and their flight was late.  To keep the crowd happy, u2 put on wigs, and came out as a "local group", the Dalton Boys, and did some country songs.  About halfway through the set, the crowd started realizing it was them and went nuts.  Sheen was supposed to leave a ticket for me at the will-call window.  Apparently, in his drug addled haze, he forgot.  Luckily a guy from Amnesty international was hanging around the window, and seeing my predicament, gave me a ticket.  I went inside to join everyone and found Charlie hammered off his face backstage.  I mean beyond.  At this point in my life, I  had never seen anyone wasted like this.  He had a guy who would fly into Indianapolis with his required pharmaceuticals.  The guy would literally pull up in a car from the airport with nothing more than a briefcase, and they would disappear for a bit, and the guy was out of there.   One time, a dubious FedEx package addressed to a crewmember was intercepted by the Police and an investigation ensued.  I was partaking in as much of the revelry as possible.  I learned about Cocaine's popularity during this shoot, and having been warned about it, I abstained.  It was all so captivating to me:  the drugs, the circus community, the fame.  I was busy keeping up with the lies I was telling to my school, to the film, and to the girls I was meeting.  I was getting really good at dealing with my lack of self-esteem and self knowledge through creating fiction about myself.   
One weekend toward the end of the shoot, I was entrusted with a van to pick up legendary actor Clifton James, and literary titan Studs Terkel at the airport.  They were arriving on a Sunday, and the production office was going to be closed.  I lived near the airport so it was an easy gig for me.  My parents were out of town, and an opportunity for a serious party on that Saturday prior could not be missed.  I was out until all hours with the crew.  I set 3 alarms to wake up for the pick-up but still slept through it - all day.  Of course there were no cell phones at this time, so Terkel & James were stuck at the airport in a strange city, with no one to call, and no idea where they were going.  After several hours someone had stopped into the production office and noticed the phone ringing off the hook.  Needless to say, everyone was slightly pissed.  I was swiftly fired and I was devastated.  The art department took pity on me and gave me a job.  I finished out the shoot loading trucks and sitting in warehouses.                                                                                                  
Studs Terkel
 Because of the notice I had received for the work I had been doing in the local theater, I had been offered a full ride theater scholarship to the University of Evansville in southern Indiana.  It was certainly the best theater school in the state, and one of the best in the Midwest.  They selected only a handful of students each year, and it was a real honor.  My parents couldn't really afford to put me through school, and my grades weren't so great by this point, so this was my best chance at a quality education.  I went to look at the campus, and I was overwhelmed with a claustrophobic feeling.  I could not sit here for 4 years. Thinking things through and listening to reason were not my strongest assets.  So the decision was made… 
 I was going to New York.