Confessions of a Club Kid: Part 1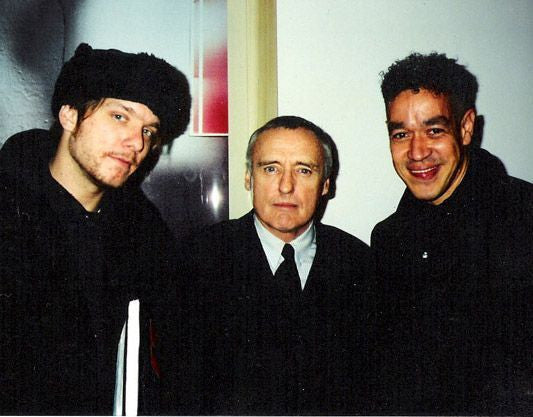 PART 1: EXPOSURE TO THE OTHER HALF 
As some of you may know, I was a notorious troublemaker and club kid in New York in the late 1980s and early 1990s.  It was a crazy journey that provided me with many stories that my friends have long been encouraging me to write.  So here we go...  
                                                                                        Me in 1984.
I want to start by explaining how I ended up in New York in the first place...  
 I grew up in a working class, Christian home in Indianapolis, with Very little exposure to culture.  When I was 10, we got the then-brand-new technology of cable television.   I became obsessed with the late night programming.  The imagery and personalities I saw there were a surreal departure from my surroundings.  I became fascinated with what I saw on shows like "Night Flight" and "Video Jukebox" and the strange films that were aired at these hours.  In 1981, I was 11 years old, and MTV made its debut on the airwaves.  It may be hard to understand it, given what it later became, but MTV at that time was incredible.  It was a portal into a world that I didn't even know existed.  Segments involving the likes of Jean Michel Basquiat and Andy Warhol or artists like Devo or David Bowie blew my mind.  I was like "where are these people?  WHO are they?" I just knew that these were my kind and I wanted to find them in my world.
I went to see a play at the professional theater in Indianapolis, Indiana Repertory Theater, on a school trip.  The play was Moliere's "The School for Wives".  A dashing, exciting farce.  I couldn't believe it.  The vibe in the Theater was pulsing.  It was exactly like what I had seen on MTV: Adult, weird, exciting.  I knew instantly that I had to be a part of it.   I had never truly felt like I fit in, no matter what my experience ACTUALLY was.  I mean, I was popular at school, girls liked me, I was academically prodigious, but it all felt wonky.  I felt as if, despite my achievements or apparent aptitude for whatever situation I was in, once people found out how weird I was, they would abandon me.   I knew it would be different here.  I could tell that this is where all of the people who thought differently, who were curious, who had ideas questioning to the status quo found communion with others.  I had to be a part of it.  I set out with an obsession to make it happen.  I started doing whatever I had to do.  I took city buses to auditions.  I embellished my resume.  School plays, Community Theater, crime re-enactments for the local news.  Whatever.  I didn't have an idea that I would be "famous".  I just did it because it seemed like it was exactly what I was supposed to be doing.  I loved the communion with the often-older people.  Talking about politics, art, and music.  I felt nurtured in a way that I never had.  Family and teachers often questioned whether it was an intelligent choice for someone with such academic promise, but I couldn't even hear it.  I was certain that this was my path.  Logic was no opponent for my obsession, once it was married with my burgeoning interest in girls and alcohol.  I was on my way to finding my demi-monde.  
                                                                             Dennis & Hackman, 'Hoosiers' still.
There was big news in Indianapolis in 1985, my sophomore year in high school.  A Hollywood film was coming to town.  It was all over the TV and newspapers.  Gene Hackman and Barbara Hershey were coming to town to film "Hoosiers" about Indiana Basketball in the 1950s.  I was obsessed.  I had to get involved.  An open call for extras was publicized.  My Dad took me and dropped me off.  In typical fashion, I sought out the right person and asked if I could be involved.  I was directed to a casting director who asked me if I could basically be on call as a "continuity" extra.  Since the story centered around a high school basketball team, they would need lots of young extras as students at the school, games, etc...  Of course I could be on call!  My school had very poor attendance, so they had devised a system whereby you could make up multiple days of school by sitting in a study hall for 4 hours on Saturday Mornings.  I exploited it.  I must have missed 20 days of school shooting and made them all up in about 6 Saturdays.  I was having the time of my life.  There were cute girls, plenty of alcohol, and exciting, worldly types from New York and Los Angeles who seemed to embrace me as one of their own.
Dennis Hopper was also in the cast.  He had recently gotten sober after years and years of notorious drug and alcohol abuse and insane living.  I knew a bit about him and was fascinated by him.  He always sat alone and seemed slightly nervous.  Everyone else was so confident and he seemed so out of place.  I didn't really understand the full magnitude of his career and life story, but I knew a bit about him.  One day I walked over and sat down with him.  A bold move.  We struck up a conversation and became pals.  One Friday night we were riding back to the hotel in a van and Dennis asked the driver if he knew where James Dean's grave was.  The driver said he was actually from Fairmont, Dean's hometown.  Dennis said he had never been and asked the driver if he would mind taking him on Sunday, our day off.  The driver was completely stoked to take the screen legend to the grave of his old friend.  Dennis turned to me and asked me if I would like to go.  I couldn't believe it!  Of course!  I was ecstatic.  This was exactly the kind of experience I was dreaming about.  Saturday night, I went out with some guys from the movie.  We got hammered.  I drank more than I ever had to that point.  I was slightly embarrassed about my age and I watched my curfew come and go.  My pride about how these guys would perceive me if I said something far eclipsed my fear of getting in trouble.  My mom was waiting up when I got home.  I was grounded.  Monday at work, Dennis sees me and comes over.  "Where the hell were you?"  he asks half-angry.  Imagine the embarrassment of telling Dennis Hopper you were grounded.  There are no words...
                                                                       Me, Dennis, & Andres Serrano (1995)